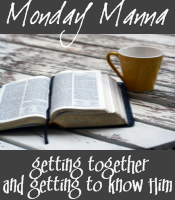 The purpose of Monday Manna is to get together and get to know Christ more through His Word.
On the first and third Mondays of each month, anyone who wants to participate can post their thoughts on a specific verse--posted here at my blog on the Thursday before, to allow you to chew on it over the weekend. It doesn't have to be long -- just a few thoughts, a picture you feel helps express it, a poem, a short story, a devotional. Just post it on your blog on Mondayish (early OR late is fine, by the way!), then come back here and link up in the MckLinky gadget that will be at the bottom of MY post at o'dark thirty that morning.
In my Bible reading, I'm in the book of Daniel. There is so much to learn and study in this wonderful Book. One of my favorite, and most inspiring, verses is in this OT prophetic book. Every time I read it, it challenges me. How real IS my faith? How much am I willing to put on the line?
And so, for this week's Monday Manna, I ask you to ponder, and write on, the very same thing.
Shadrach, Meshach and Abednego replied to the king, "O Nebuchadnezzar, we do not need to defend ourselves before you in this matter. If we are thrown into the blazing furnace, the God we serve is able to save us from it, and he will rescue us from your hand, O king. But even if he does not, we want you to know, O king, that we will not serve your gods or worship the image of gold you have set up." Daniel 3:16-18
Look forward to YOUR thoughts on these verses. See you back here on Monday, I hope!
Blessings!