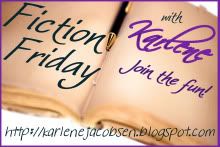 Welcome to my contribution to Fiction Friday, hosted this week by Vonnie at My Back Door. Make sure that you head over to her blog and link up with your own fiction. Or, if you just want to read some great fiction (ALWAYS great in my opinion!), head over to My Back Door and check out the links there.

AGAIN, I'm posting non-fiction. Hope you don't shoot me through the toes and hang me by the holes ;). Wrote this one a year and a half ago, when I was first working out how I was going to write/format my non-fiction book
Ailing Body, Nourished Soul
. This is in the style of my book (which is VERY close to ready for its professional edit!!!), but not an actual excerpt. Hope you enjoy it!
LITTER BOX MINISTRY
It felt like a completely ridiculous and uncomfortable request, but I had to make it.
Our needs at the time were wide and deep: money, day care, prayers, meals, transportation, companionship, clothing, groceries, yard work. Some we had graciously received from our church family without even a request on our part. Others had been granted after we made the need known.
Every person in our family had been blessed by the gracious and giving natures of the body of Christ. Whether it was a church member mowing our three-acre yard so my husband wouldn't have to, a ready-cooked meal so I could stay out of the kitchen, or a toy to keep my son occupied, each member of our household had been blessed abundantly by the giving of fellow Christians.
Well, almost every member. It seemed our two "feline children" needed ministering to as well.
Twix and Squeak were already getting food and water, and even a bit of love. Their needs were a bit more sanitary in nature.
You see, for the past several months, my husband had been taking care of the cats' "business" after they relieved themselves. Prior to this, cleaning up after the cats had always been my chore, as my husband's sense of smell was a bit more acute than mine. This was certainly not a job he enjoyed, but he had done it, nonetheless, because of the warning in my most consulted book (besides the Bible, of course): "What To Expect When You're Expecting."
My second child was on the way, you see. Every pregnancy book known to man, it seemed, discouraged expectant females from contact with cat poo (I can be straightforward, can't I?). It seems feline fecal matter can carry a disease called toxoplasmosis. This disorder, though having little effect on the mother-to-be, can be spread to the unborn child and cause serious complications, including blindness.
Well, my husband was now physically unable to take care of this, and cats will only put up with an unsanitary lavatory for so long. And, as much as I adored my kitties (and hated asking for yet another favor), I was unwilling to risk my newborn child's eyesight.
So, I called Barb, our pastor's wife and a dear friend, who had been coordinating our assistance (do you know what a Godsend it is to have someone coordinating your assistance?). Apparently attuned to my plans, our calico curled up on my lap, gazing up at me with that "rub me or else" look. I obliged, of course.
"Hi Barb."
"Hi, dear! How are you doing?"
"We're doing okay. Barb, thank you so much for all you've done. You don't know how much we appreciate it."
"I just thank the Lord that I can."
I sighed. "I have one more thing I need help with."
I could hear her shuffling papers. "What do you need, hun?"
"Well, I need someone to come and clean out the litter box." I paused. "Of course, my husband can't do it, and I'm not supposed to because I'm pregnant."
Barb went right to work, with a smile I'm sure. Within a day or two, she had found a cat lover (had to have been!) and sister in Christ willing to come to our home and take care of Squeak and Twix's "leavings."
Now if that doesn't require a selfless attitude, I don't know what does. And she performed her litter box ministry cheerfully and without complaint for three months.
The body of Christ blessed every living being in our home during our trial, it seemed. Some prayed. Some gave us rides. Some watched our son. And some cleaned up our cats' waste. Every one was a blessing.
Questions
: Do you ever feel embarrassed to ask for help when you really need it? Do you let your pride get in the way of asking for, or performing, assistance that may seem "below you"? Do you feel like you need to do something important in order to really help someone?
Prayer
: Heavenly Father, help us to remember that Your Son was willing to do the lowliest of jobs when He was on earth. Help us not to be ashamed to ask for help, and not too prideful to do even the lowliest of tasks for Your sake. Thank You for hearing our prayers in Jesus' name. Amen.
Thanks for reading! Be sure to stop by Vonnie's blog for great fiction!