Welcome to my contribution to Word-Filled Wednesday, hosted each week by the delightful, Godly, and lovely
Amy Deanne at her blog
. Anyone can participate - just partner some of God's Word with a picture of some kind in any way you like. It is quite a blessing to see what folks come up with.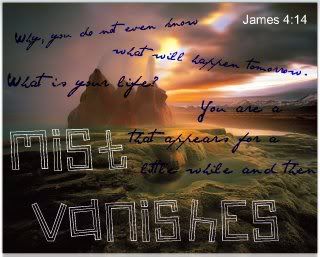 Why, you do not even know what will happen tomorrow. What is your life? You are a mist that appears for a little while and then vanishes. James 4:14 NIV
I often look at the beauty of our world and treasure it. And, sometimes, I look at the ugliness of it and stew in it. It is good to remember that my life, here on earth, is but a mist that will vanish. Eternity, however, will not vanish--and it will be perfect.
Be sure to stop by Amy Deanne's blog for more