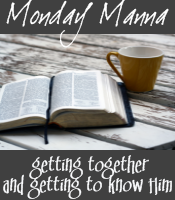 Welcome to Monday Manna. The purpose of this meme is to get together and get to know Christ more through His Word. The first and third Monday of each month, anyone who wishes can post their thoughts on a verse I introduced at my blog the Thursday before. It doesn't have to be a long post -- just a few thoughts, a picture you feel helps express it, a poem, a short story, a devotional.
Anyone is welcome to participate. Just post to your blog and link up at the bottom of this post in the Mr. Linky gadget.
The Monday Manna verse this week is Psalm 2:11 -
Serve the Lord with fear and rejoice with trembling
. Looking forward to reading what you have to share.
My thoughts are below.
**
"...rejoice with trembling." Psalm 2:11b
It almost sounds like an oxymoron, don't you think? Rejoice...with trembling. Isn't trembling an action one associates with fear rather than joy? How can one possibly do both simultaneously?
I have, however, been so joyous that I trembled. Yet, I don't think the Lord had a positive, excited type of shaking in mind. It doesn't seem to jive with the first part of the verse. No, I believe, the type of trembling referred to here is the kind caused by fear: the same fear we are asked to serve the Lord with earlier in this verse.
If I am in fact right, what is the psalmist saying? What are we rejoicing about? Why should we tremble?
God's people are told to rejoice dozens of times in God's Word, and they do. Adam rejoiced when
the Lord gave him Eve
. The children of Israel were full of joy
as they stood, free
, on the opposite side of the Red Sea. David, king of Israel and a man after God's own heart, rejoiced over his victories and in God's faithfulness.
Yet, the Babylonian monarch Nebuchadnezzar also rejoiced, but it was not a good situation. A year previous, this great king of Babylon had been
warned by the Lord through the prophet Daniel
to give up his sins and self-importance and to honor the Lord. Daniel warned that this king would be greatly humbled if he did not. And Nebuchadnezzar did not heed the warning.
Twelve months later, as the king was walking on the roof of the royal palace of Babylon, he said, "Is not this the great Babylon I have built as the royal residence, by my mighty power and for the glory of my majesty?" Daniel 4:29-30
King Nebuchadnezzar was clearly rejoicing, but his joy was in what he had accomplished, not the gifts and blessings God had provided for him. And boy, did he ever suffer the consequences.
The words were still on his lips when a voice came from heaven, "This is what is decreed for you, King Nebuchadnezzar: Your royal authority has been taken from you. You will be driven away from people and will live with the wild animals; you will eat grass like cattle. Seven times will pass by for you until you acknowledge that the Most High is sovereign over the kingdoms of men and gives them to anyone he wishes." Immediately what had been said about Nebuchadnezzar was fulfilled. He was driven away from people and ate grass like cattle. His body was drenched with the dew of heaven until his hair grew like the feathers of an eagle and his nails like the claws of a bird. Daniel 4:31-33
Nebuchadnezzar's rejoicing was entirely self-centered, with no concern for, or fear of, the Lord. Adam, the Israelites, and David's joy were, on the other hand, God-centered, keeping their Heavenly Father at the center, and revering him in their rejoicing. They were rejoicing with trembling--remembering their fear and reverence for the one who had given them cause to celebrate in the first place. Nebuchadnezzar's joy was without that fear, and was displeasing to God, and he learned his lesson.
When you rejoice, do you tremble?
Heavenly Father, thank You for giving us so many reasons to rejoice, even during difficult times. Everything we have is because You have given us. Help us to remember to rejoice with trembling. Make us ever-conscious of our blessings from You, and help us to give credit where credit is due, praising You rather than ourselves. In Jesus' name I pray. Amen
Thanks for reading! Be sure to link up at the bottom with your own thoughts on this verse, and be sure to read others' contributions. See you in a few weeks for the next Monday Manna!