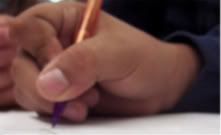 I'm over at
Exemplify
today, with the continuation of my
Ponderings on the Pentateuch
series. Come check out my take on Moses' insecurities and God's reaction to them:
What Is That In Your Hand
? This was a new lesson to me - hope it blesses you. Oh - and while you're there, check out some of the other bloggers at Exemplify. They're fabulous!
(AND, I do believe I'm gonna have a pretty BIG announcement tomorrow. To me, anyway. :D Be sure to stop by!)