It's Cafe' Holiday Expo time, and I'm excited to be participating!
Click here
to visit The Internet Cafe's holiday expo and see all the wonderful giveaways you can try for!
The Christmas season is a time of joy and excitement and praise, but, for many of us, it is also a time of hecticness (LOL yes, I'm allowed to make up words. I'm a WRITER, after all!). It's easy to get caught up in the craziness of the season and forget where our focus should be.
SOOO, as my little contribution to the holiday expo, I'm giving away a wonderful little book with lots of little nuggets (nice and short, so you can read them quick in the midst of your busy schedule) for women.
With topics ranging from abundance to worship, and everything in between, this 159-page treasury of Bible verses, prayers, quotations, and essays for women will encourage you, exhort you, and bless you.
And all you have to do to be entered is reply to this post with
a favorite prayer or promise from the Bible
(along with your email address if you don't have a blog). You have until NEXT Thursday, December 11 at midnight. I will then pick a name randomly from all the responses I receive. The winner (along with the other Holiday Expo winners) will be announced at The Internet Cafe AND through an email from me. And, yeah - I WILL ship overseas!
So, what is your favorite prayer or promise from God's Word? Share it below, and may you ALL be blessed! And don't forget to stop by
The Internet Cafe
'
for more chances to participate in the Holiday Expo!
If you're curious, my favorite promise of the Bible is from the book of Philippians, and also happens to be part of one of my favorite verses of the Bible.
Do not be anxious about anything, but in everything, by prayer and petition, with thanksgiving, present your requests to God. And

the peace of God, which transcends all understanding, will guard your hearts and your minds in Christ Jesus

. Philippians 4:6-7
Oh - and p.s. - I'm having ANOTHER giveaway coming up, to celebrate my 100th post (this one happens to be my 98th - so QUITE soon). This one will be a bit more involved on your part than the Cafe' one. I'm only giving you one hint: think a week and a half of quiet time.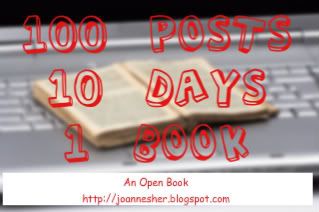 Hope to see your response at the bottom - AND you back here for my other contest/celebration/giveaway! God bless!