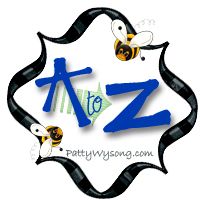 This tiny story/entry has been a lot of work in coming. You see, I have known about
this contest
for months (at least I remembered folks mentioning it quite a while ago.) I have know the specifics for over three weeks. But I was truly wondering if it was actually going to come together.
Over that time, I started probably half a
dozen different
stories that
fit the parameters
(about Halloween, for children, 100 words or less, using the words pumpkin, broomstick, and creak) - and they all either petered out or seemed ENTIRELY too
difficult
to pare down to that miniscule amount required for the contest.
But, finally, with much
discipline, drive, and determination
(and with the help of my lovely
daughter
with the editing/trimming down to size), I present to you (my fellow A to Zers, blog readers, AND other contest entrants), my humble entry in
Susanna Leonard Hill's
4th Annual Halloweensie Writing Contest
!
By Joanne Sher
"Jack-o'-lanterns are dumb," Sarah said, elbow-deep in pumpkin guts. "And gross."
"Nah. They're cool!" Her brother B.J. bounced, making the chair creak. "Can this one be a witch?"
Sarah shrugged.
"Don't you LIKE Halloween?"
"Not really."
"You don't like candy? Decorations? Trick-or-treating?"
"Trick-or-treating's for little kids." Sarah frowned.
"Some older kids go."
"My friends aren't."
"Go with me."
"With you? Seriously?"
B.J. beamed. "Say Mom made you."
"Maybe."
"C'mon."
"Okay!" Sarah rose, pumpkin guts flying.
B.J. gasped, then giggled. "I'll be a pumpkin this year. Got my costume."
Sarah grabbed a broomstick. "And I'll be a witch."
**
Not the best thing I've ever written - but not bad, I'd say. Check out a bunch of other short Halloween stories (which I'm sure are MUCH more clever than mine!) at
Susanna's blog
- and enter your own if you want - the deadline isn't until just before midnight on Halloween!
OOOR - if the letter "D" is more up your alley, join the blog hop below! :)
My heart is stirred by a noble theme as I recite my verses for the king; my tongue is the pen of a skillful writer. Psalm 45:1