This post is part of Patty Wysong's
A to Z meme. This week's letter is "O."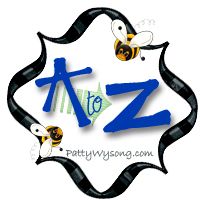 Don't know about you, but here in the Sher house, the past couple months seem to have flown by. Yesterday was the last day of the first quarter of my kids' school year - which means we're already 25% of the way through!
October (and September before it) was full of soccer, it seemed. And school. And running here, there, and everywhere. And researching/learning more about what seems to be my new writing focus - children's stories.
The kids are NOW almost 10 and on the cusp of 13!
Getting used to the routine of a new school year generally takes until some time in October to happen, and this year was no different. I think I can say with some certainty that, now the October is over, we've gotten ourselves into a nice pattern (that is apt to change - at the last minute - with no notice. But still :D).
And today is the first day of November. My kids have the day off (teacher inservice training) - a nice treat the day after Halloween, you think? We're getting a family portrait taken today (has been
seven
years since our last one - you can see it right there). It's about time in my opinion (though some in the family aren't QUITE as agreeable ;)).
AND, today starts
PiBoIdMo
- picture book idea month! Very excited about it (
click here
for last week's post for more details). Got my ring of index cards to carry with me so I can jot down any picture-book related ideas that pop into my head throughout the month, and plenty of places to go for inspiration.
Other highlights of this month will likely include my daughter's birthday (she goes double digits at the end of the month!), a couple field trips I'm driving for (one for each child - a pipe organ "investigation" and a Mexican supermarket), Thanksgiving, and who-knows-what else.
I don't know about you - but I'm READY for November, and glad that October is over!
How was your October?
Scripture Stories: Timeless Truths
Check out these other "o" posts, and/or share your own!