This post is part of Patty Wysong's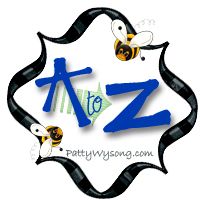 A lot of my writer friends are gearing up for what may be the craziest idea anyone ever came up with.


Yes, one week from today, hundreds of thousands of writers will attempt to write an entire novel, basically from scratch, in a month.


If you are unfamiliar, November 2013 is the 15th annual National Novel Writing Month, also known as
NaNoWriMo
. The goal is to write a 50,000-word novel between November 1 and 30. (more details on the
FaithWriters blog
today, actually - a FW regular and NaNoer is guest posting)
I tried it once a couple years ago. I did NOT succeed (was about 20,000 words short), but I DID learn a lot about myself (check out
this old post of mine
if you're interested).
Guess what? I'm
NOT
doing NaNoWriMo again in 2013. But I am giving something else a try - something more in line with my new writing focus.
When I was looking through
children's author blogs
looking for ideas/a blogging focus to go along with my new children's book writing focus, I found this little challenge at the blog of children's author
Tara Lazar
. She is the creator of
Picture Book Idea Month
(PiBoIdMo - doesn't roll off the tongue as nicely as NaNo - but oh well), in its fifth year. In her words:
Tired of novelists having all the fun in November with NaNoWriMo, I created PiBoIdMo as a 30-day challenge for picture book writers. The challenge is to create 30 picture book ideas in 30 days. You don't have to write a manuscript (but you can if the mood strikes). You don't need potential best-seller ideas. You might think of a clever title. Or a name for a character. Or just a silly thing like "purple polka-dot pony." The object is to heighten your picture-book-idea-generating senses. Ideas may build upon other ideas and your list of potential stories will grow stronger as the days pass.
A Laurie Keller we love - got a signed copy!
Sounds like fun, a super way to get those creative juices going, and besides - isn't that logo adorable? There were will also be posts by professional authors and illustrators all month- including
Jan Yolen
,
Laurie Keller
(a favorite at our house) and MORE. And those who complete the challenge can win prizes!
Personally, I'm fairly certain something like this is just what I need to make the leap - in my writing AND my mind - into writing children's books. And a bonus? There is NO way I'll be 20,000 words short on December 1!
I'm pretty excited about this new adventure I'm planning to take on in November. I'm praying that, by the end of the month, I'll know if picture books are truly where God is calling me to use His writing gift to me.
Are you doing/have you done NaNoWriMo, PiBoIdMo, or anything like it? Got plans for anything new in November?