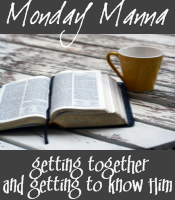 The purpose of Monday Manna is to get together and get to know Christ more through His Word.
On the first and third Mondays of each month, anyone who wants to participate can post their thoughts on a specific verse--posted here at my blog on the Thursday before, to allow you to chew on it over the weekend. It doesn't have to be long -- just a few thoughts, a picture you feel helps express it, a poem, a short story, a devotional. Just post it on your blog on Mondayish (early OR late is fine, by the way!), then come back here and link up in the Linky Tools gadget that will be at the bottom of MY post at o'dark thirty that morning.
My new pastor is teaching on Exodus at Wednesday night prayer meeting right now. I love this book. I've read it more times than likely most any other book of the Bible, and it still has much to teach me. As Pastor Pike was discussing the events leading up to Moses and Aaron's first visit with Pharoah, one verse in particular grabbed me. That, by the way, was the sign to me that I was to choose this verse for Monday Manna.
And when they [the Israelites] heard that the LORD was concerned about them and had seen their misery, they bowed down and worshiped. Exodus 4:31 NIV
Well, there you go! A verse to ponder for a few days. Looking forward to reading what you come up with for Monday. See you then!
Paving Rough Roads With God's Presence