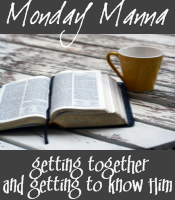 The purpose of Monday Manna is to get together and get to know Christ more through His Word.
On the first and third Mondays of each month, anyone who wants to participate can post their thoughts on a specific verse--posted here at my blog on the Thursday before, to allow you to chew on it over the weekend. It doesn't have to be long -- just a few thoughts, a picture you feel helps express it, a poem, a short story, a devotional. Just post it on your blog on Mondayish (early OR late is fine, by the way!), then come back here and link up in the MckLinky gadget that will be at the bottom of MY post at o'dark thirty that morning.
I know it's a holiday weekend, but I'm not ready to take another week off from Monday Manna. Don't EVEN feel bad if you're "a regular" and DO feel the need to sit this one out. Just giving the option to participate - and as always, you don't have to post on Monday - MckLinky will be available for several days after.
ANYhow, God put this verse in my head recently. It's one I certainly know - and it's in my favorite NT book. But it scares me - and He's asking me to make it my theme verse for 2010. (gasp. shiver.) (check back tomorrow for another post on this verse, and my goals for 2010!)
Anyhow..here it is!
I can do all things through Christ who strengthens me.Philippians 4:13 NKJV
Looking forward to your thoughts (and mine!) on this verse. See you back here on Monday!