Welcome to Word-Filled Wednesday, hosted this week by
eLisa at Extravagant Grace
. Be sure to stop by there for more visual inspiration from Scripture.
I love my daughter incredibly, and she's absolutely adorable. However, everything she does is
not
adorable. There's a problem with this, though. Cuz, most of the time, she still
looks
adorable when she's not acting adorable. And sometimes I forget that.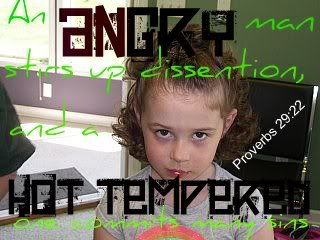 An angry man stirs up dissention, and a hot-tempered one commits many sins. Proverbs 29:22
Cute, isn't she? But she's
also
copping a
major
attitude, and is an angry little girl (for no reason other than selfishness). And God doesn't like it. Sometimes, I admit, I let her get away with stuff I shouldn't - cuz she's so adorable, and cuz it's easier to appease her than to teach her to stop. But when that happens,
both
of us are sinning. (yeah - I said the "s" word) And
I
am responsible for teaching her that her anger is a sin.
I think I need to commit this verse to memory. And maybe teach it to my daughter too.
Heavenly Father, thank You for Your Word, that teaches us right from wrong. Help me, Lord, to ignore my daughter's beautiful exterior when necessary, so I can focus on her ugly interior - her sin nature. Guide me in correcting her, Lord, and in keeping my own anger in check. In Jesus' name I pray. Amen
Thanks for stopping by! Be sure to stop by
for more