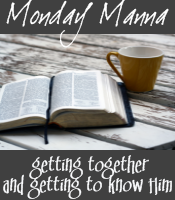 Welcome to Monday Manna. The purpose of this meme is to get together and get to know Christ more through His Word. On the
first
and
third
Monday of each month, anyone who wishes can post their thoughts on a verse I introduced at my blog the Thursday before. It doesn't have to be a long post -- just a few thoughts, a picture you feel helps express it, a poem, a short story, a devotional.
Anyone is welcome to participate. Just put a link to your Monday Manna blog entry in your comment (there have been problems with Mr. Linky), and check out others' thoughts.
This Monday's verse is a very thought-provoking one.
You have been set free from sin and have become slaves of righteousness. Romans 6:18 NIV
My thoughts are below. Looking forward to reading yours!
**
We like to think we have control of our lives: that we're free to do what we wish and control our own futures. That we choose the course of our existence and are masters of our own destinies.
But we aren't. We aren't truly in control, or even in charge. Every one of us is a slave.
Despite what my children (and occasionally I) may think, the world does not revolve around them. Everything on this planet is affected by hundreds of factors beyond its control. I can't change the weather, my husband's mood, gas prices, or the airplane above me. But they can change me.
These factors, however, are minor in comparison to the affect sin can have on humankind. And no one is immune.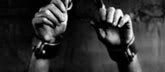 Though some philosophers deny it, sin has been an issue (and a big one at that!) since birth, if not earlier. At the center of each of us--at the very essence of our being--is a sin nature. Note that. Sin is our
natural
state. It is our essence. We are slaves to it. It is the only nature we know.
Until God made a way.
Not from anything we did. Not because we deserve it. Because of Our Lord's great love for His creation. He gave us a way to loose our shackles from sin. Because He died to take our punishment, we are not longer enslaved to our evil natures.
Yet, we are still not free--but our taskmaster loves us. He cares for us more than we care for ourselves, than we care for anyone. And he is loving and gentle.
"Come to me, all you who are weary and burdened, and I will give you rest. Take my yoke upon you and learn from me, for I am gentle and humble in heart, and you will find rest for your souls. For my yoke is easy and my burden is light." Matthew 11:28-30
Our yoke - our enslavement - is from the Lover of our souls. And there is no kinder master.
*
Thanks for reading! Please put a link to your post in a comment on this post, and read some of the others' thoughts.