This post is part of Patty Wysong's
A to Z meme. This week's letter is "T."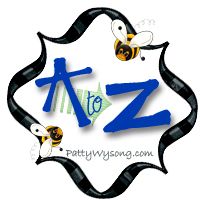 Three years ago next month, I started something in my life that, at the time, scared me to death. It overwhelmed me for a while (especially the very first time), but has come to be an event that I truly look forward to, and that has benefitted me in so many ways.
What is it? My biweekly (currently) tech-free day.
You may have heard me refer to it here on occasion - more often when I was first starting it than recently. On my tech-free day, I refrain from use of my computer (other than an AdAware scan that takes several hours), texting on my phone (my phone is "dumb and dyslexic" - the only thing I CAN do on it is text and make phone calls), and most uses of my Kindle Fire (my daily Bible reading is on there, so I still do that, and I'll check/add to my online calendar if necessary). Basically from bedtime the night before until I boot up the morning after, I am unplugged.
Made this button myself 3 years ago
My first one
, back in January of 2011, went fairly well (see
this post I did on "how I survived"
if you're interested), though I missed the interaction, and "catching up" the day after was crazy (I still remember - and I must say I downplayed it in the post I link to up there). It took a while for that to get settled, but soon my "tech-free Tuesday" was something I looked forward to each month - and that benefits me greatly.
Why?
When "online" was overwhelming me and/or I was ready to toss my computer out the window, I knew I had a day coming up when I could completely and totally ignore it.
It forced me (sometimes kicking and screaming!) to spend some time in the "real world" every once in a while.
I ignore housework day-to-day as a rule - and do much better with it when I have a large chunk of time to invest in it. Guess how I spend much of my tech-free time?
It has helped my mood AND productivity.
In the past three years, my tech fast has changed some. I've gone from once a month to twice a month, and most recently to every other week (when it's basically the only time you clean, it DOES make a difference! :::r::: ). The day has switched from Tuesday to Thursday. I've gone from announcing it on my blog to not. The "rules" had to be adjusted when I added my Kindle Fire to the mix (note - it isn't pictured in my original graphic above). Probably other things I'm not remembering.
But it's a part of my life now - and a very, VERY beneficial one. No matter how terrified I was of it back when my first one was still on the horizon. In fact, this post was written early, because
yesterday, I was on my first tech fast of December
. :)
I recommend them for everyone. Truly.
So, when are YOU going to take your next (or first!) technology fast?
My heart is stirred by a noble theme as I recite my verses for the king; my tongue is the pen of a skillful writer. Psalm 45:1
Check out more T posts below, or share your own!