This post is part of Patty Wysong's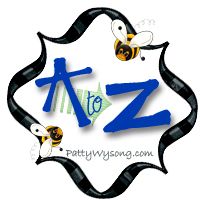 I had a bunch of WONDERFUL words I was considering for my L post.
Love
Laughter
Light
Los Angeles (where I was born and raised!)
But the ideas for them just weren't coming. So, my topic for today is a bit less inspiring and earth-shattering. But still fun (I hope!).
I don't drink as much as I should. MANY have told me this. I don't ever recall being completely dehydrated, but I know more
liquid
consumption would be VERY good for me (and now I think I'll take a quick break to go fill a cup with water. I MIGHT have it empty in a few hours. If I remember).
Okay - I'm back. Took my first sip of water of the day (not counting the one I took with my multivitamin before it got
light
).
I'm not much of a pop/soda/coke drinker. I'm not terribly fond of the taste of several of these beverages, and, well, the carbonation affects me more than most (I've been called a gaseous anomaly in the past :::blush::: ). There are a few (root beer, ginger ale - that's all that's coming to mind) that I'll drink in a pinch, but generally, it's not on my
list
. Not a fan of coffee either.
My favorite
liquid
is milk (or
leche
, for my Spanish-speaking and "L"-conscious friends). Skim.
Low fat
is okay too - just don't give me whole. I would gladly drink it for just about every meal. Yummy! (In fact, I have a glass of milk with my Bible reading each morning - that picture on my blog header is NOT a mistake!).
But, if I'm eating out, milk is, in general, expensive - and you don't get free refills on it! So, as far as ordering drinks, my go-to
liquid
is
lemonade
. Regular, Pink. Raspberry. Strawberry. You name it, I enjoy it.
Love
me my
lemonade
. Not as much as milk - but still.
And if they don't have
lemonade
(or I'm just not in the mood)? Ice water.
Do You Drink Enough? What's Your Favorite Liquid?
Scripture Stories: Timeless Truths
Read more L posts and/or share your own here!