This post is part of Patty Wysong's
A to Z meme. This week's letter is "K."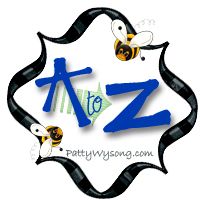 For the past month or so, my son Andrew has been involved in his(and my!) first school team sport experience. He is on his school's soccer team - the Cross Creek Cougars.
There's my boy going after the ball
I have never seen more
kicking
in such a short time in my life. Just since September 9, the Cougars have played nine games and practiced at least that many times. The soccer season is intense. Almost every school day, the
kids
are either playing or practicing. Every day after school, it's
kick, kick, kick
. In fact, there's a game today - I might be out cheering the "
kids
in blue" on as you read this very post!
A "victory lap" - the kids run across the field and back at the end of each game
My son is loving it - and so are his teammates, from what I can see. I'm not QUITE as fond of it as he is (honestly, the schedule feels brutal to me), but I love to watch him and his friends play.
The boy in blue is one of four kids named Austin on the team
The thing is, the team is pretty big. There are twenty-eight boys on the Cross Creek Cougars, and with only ten positions, each
kid
certainly isn't out there the whole game. But the coach gives all of them a chance to play each game, which, I figure, it how it should be.
Those kids really hustle out there!
The thing is, soccer is still somewhat confusing to me. Don't get me wrong - I comprehend the basic premise of the game. It's the other stuff. Most of the time, I don't understand the penalties, and I might just have to award a prize to the person who can actually make me understand exactly what "offsides" is. Most people have stopped even trying to explain (and I don't blame them. I'm a lost cause!).
There's some fancy footwork!
But I totally get the
kicking
part. And the "no hands" part (unless you're the goalie). And for now, I guess that's gonna have to do.
Besides, the season is nearly over - playoffs (which we may or may not be in - NOT a clue!!) start in a little over a week. And once that's over,
I'll get my life back
it won't matter if I don't get it - cuz any
kicking
my son will be doing will be for fun only (unless, of course, he's misbehaving - but that's a whole different issue!).
Are you/have you been involved in the organized sports thing?
Scripture Stories: Timeless Truths
Read other K posts, and/or add your own link below!