This post is part of Patty Wysong's
A to Z meme. This week's letter is "H."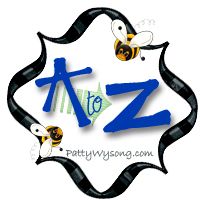 Many of you know that I was raised in a Jewish home. That my parents and most of my family are Jewish. You might even know that I was Bat Mitzvahed at 13 (and some of you might even know what that means ;) ). That I didn't come to Christ until I was in my 30s.
What you may not know is that part of my Jewish education included learning to read Hebrew, the language of my people.
Perhaps I should clarify a bit. When I say I learned to read Hebrew, I don't mean it the same way you might have learned Spanish or French or German, for instance, in school. While I did learn, on a limited basis, the meaning of some Hebrew words, the main goal of reading Hebrew was being able to look at the "weird" letters and be able to pronounce them correctly. And I could do that fairly well (stress on
could
, as opposed to can).
I'm sure many of you have seen Hebrew - and some of you may even know how to read it. But did you know THESE facts?
Hebrew is written backward - from right to left (actually, as my hubby will remind you, it's actually ENGLISH that is backward, as the Hebrew alphabet predates ours by a good margin).
The traditional Hebrew alphabet (as written, for instance, in the Torah - the first five books of the Old Testament) has no vowels. They were added later for clarity in some texts, and are generally indicated by dots and small lines below the "regular" letters.
There are five different Hebrew letters that are written differently if they are the final letter of a word (called "sophit."). They're on the chart above - check them out :)
Hebrew has twenty-two letters (plus those five "final letter" forms mentioned above).
There are two letters pairs (the Bet/Vet and Shin/Sin) where the location, or existence, of a dot with the letter determines how it is pronounced. - check the chart above to see what I mean.
I'm sure you know at least a few words in Hebrew -
Abba
(Father/Daddy),
Amen
(so be it - or something like that), and maybe even
Shalom
(peace). But how about I teach you a few more?
Ima
(EE-maw) - Mother
Shecket
(SHECK-et) - Be quiet
Bevakashah
(be-VA-ka-shaw) - Please
Forgive me for using the English alphabet - figuring you wouldn't be able to read the Hebrew anyway (and not sure I could either anymore LOL).
Did you learn anything new?
Scripture Stories: Timeless Truths
Read more "H" posts here, and/or add your own!