This post is part of Patty Wysong's
A to Z meme. This week's letter is "C."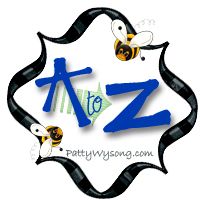 I've always had this thing for kids. Anyone younger than I am, it seemed, has a special place in my heart. Sometimes I think I can relate better to children than adults.
Even when I was a child myself, most of my friends were a few years younger than I was.The next door neighbor boy was just my age when I was growing up. But I played with his sister - three years younger. I can think of at least two other families I grew up with/around/near where this was the case. I even taught at the elementary school level briefly (high school and junior high too, but that was even MORE briefly).
My son last year. He's NOT reading on that Kindle!
Maybe that's why, after close to three dozen years enjoying writing, and close to two dozen trying to do it for publication of some sort, I'm finding my writing focus turning to youngsters - whether they be picture-book age, on the cusp of the teen years, or somewhere in between.
My daughter reading to a therapy dog at the library
Maybe it's because both of my children are in that age range (though my son will be escaping into "teenhood" in a few short months), and their opinions about reading are so different. My nearly-ten-year-old daughter LOVES to read. My son? Not so much. Who can help me from wanting to write something my daughter will savor, and my son willl at least tolerate? (wink)
Some people think writing for kids (especially young ones) is easier than writing for adults. They're wrong. I think it's HARDER to write for little ones - to keep their attention AND that of their parents, to teach,
delight, entertain, engage - especially in this modern world of instant gratification, sound bytes, and the lure of screens.
So, while I'm still working on a few projects for other, "older" age groups, my writing passion - at least for now - is toward children. They, and I, have so much to learn. :)
Scripture Stories: Timeless Truths
Read more "C" posts, or link up with one of your own!