This post is part of Patty Wysong's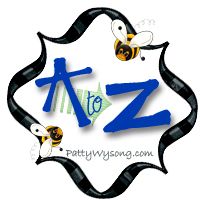 So, if you read
my first a to z post last week
, you know my writing focus is currenty children's books. Lately, my passion/interest have leaned toward picture books, and it seems that I have some sort of leaning toward...well...insects as protagonists.
Yup - my books are buggy!
The two stories I'm currently working on are both about insects. The themes are different. The lessons are different. Even the settings are different (other than "outside" LOL). And the bugs are different. But still.
The one I've been working on the longest is a
butterfly
named Flitter. Some of you may be familiar with her.
I first wrote about her several years ago, as a
FaithWriters Writing Challenge
entry. She's changed some from
that original story
, but she's still my Flitter, who I adore (along with her best friend, Maggie the monkey - though she's not a bug, of course :)).
My second picture-book-in-progress is one I started in a picture book writing practicum at the
Blue Ridge Mountains Christian Writers Conference
in May, under the instruction of multi-published sweetheart
Pam Zollman
. The star of that story is Helen the
honeybee
(the original name was Buzzy the bee, but after a bit of research, I realized that my character needed to be a female). Obviously, I haven't know her as long,
but she's flown her way into my heart as well. She's tougher than Flitter, but still endearing.
I didn't purposely choose an insect to write about for my second book - truly! I was looking at several pictures
Pam
gave us for inspiration, and a bee with a suitcase called my name. But somehow, it seems that, at least so far, bugs and I have a good relationship - at least in my stories!
I am not a huge fan of insects in real life (though I'm not deathly afraid of them or anything), but my muse is quite fond of them, it seems. Or something. I wonder what will be next. Cockroaches? Ants? Pillbugs?
Ohh - just thought of an idea... ;)
Do you get onto "rolls" like this, or is it just me?
Scripture Stories: Timeless Truths
Graphics courtesy of
free-clipart.net
(p.s. - If you're wondering about my usual goals/progress post around the first of the month, watch for it soon - hopefully tomorrow)
Read more "B" posts, or link to one of your own below!