Welcome to my Wednesday feature
God is So Good
. Here I will share stories - true and fiction, mine and others' - of the Lord's presence in the midst of trials, struggles, and difficulties.
In this world you will have trouble. But take heart! I have overcome the world. John 16:33b
For a few years, I often participated in
Word-Filled Wednesday
, which is currently hosted at
the Internet Cafe
, where I'm a devotional writer and editor. If you don't read the devotionals there, I recommend you start. WFW is a picture with scripture. For today, I'm sharing one of my old graphics that I think exemplifies the theme of my Wednesday posts of the past several months. I hope it is encouraging to you.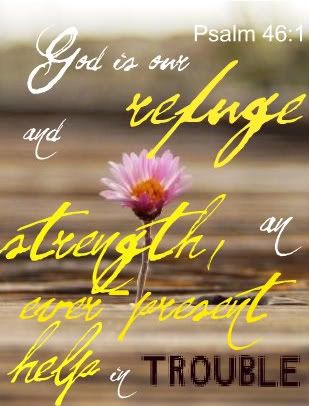 God is our refuge and strength, an ever-present help in trouble. Psalm 46:1 NIV
Heavenly Father, no matter how grey, desolate, and hopeless our lives may feel, no matter how out of control things may seem, help us to remember that YOU are always there, helping us in our troubles. When we can't feel You, Lord, help us to trust anyway. Thank You for being our refuge and strength, Lord. In Jesus' name. Amen
In trouble, He is there. He is SO good! (and
stop by the cafe for more Word-Filled Wednesday
!)
Do you have a story you'd like to share about God's goodness in your struggles? Drop me an email and we can talk!

Traveling Rough Roads With God's Strength