Welcome to week TWENTY-ONE of my dear, dear friend Patty Wysong's From A 2 Z 4 U and me. We're working through the alphabet - one letter each Tuesday. No rules, other than your post has to relate to the letter of the week. Link up at Ordinary Lives and check out everyone else's post. Click on the graphic above for more details, and stop by Patty's blog to link up.
Unveiling what, you ask?? Well, if you're reading my blog on a reader (Hi, Marc!) or through email, perhaps you have no idea. But if you're actually a
t my site
, you may have a BIT more of an idea.
Welcome to my BLOG MAKEOVER! Dontcha love it? I know I do.
I've been itching for a new look for several months now. In and of itself, that's surprising, because I'm a routine kinda gal. Not much for change. But for whatever reason, I was getting bored with my old header (which I made myself, thankyouverymuch) and colors. And I wanted to incorporate my tagline"Traveling Rough Roads With God's Strength" into the theme. But blog design is NOT my talent.
So, I turned to my near and dear
Patty Wysong
, who knows my brain as well as anyone I know (we share it, after all LOL), and gave her a bit of a project. And though I definitely was challenging, she came through with FLYING colors. And she was even willing to put it up for me to correspond with my u post (cuz I'm anal that way).
I LOVE the header. And the colors. AND the dividers. AND my drop-down navbar (REEAALLLLYYY love that!!). I'm so very pleased with how it looks.
And here's my button. Grab it if you'd like (code's on my sidebar)!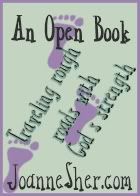 So, if you're not here,
pop over
and give it a look. And, of course, lemme know what you think. (and in case you don't know, Patty doesn't just design for me. If YOU're looking for a new look on your blog,
pop over here
and check out her designs and classes. Beautiful, and super reasonable!)
So, that's U :) Can you believe we've only got five more letters? Be sure to pop BACK over to
Peej's blog
for the other a2z posts.
Traveling Rough Roads With God's Strength