Welcome to week NINETEEN of my dear, dear friend Patty Wysong's From A 2 Z 4 U and me. We're working through the alphabet - one letter each Tuesday. No rules, other than your post has to relate to the letter of the week. Link up at Ordinary Lives and check out everyone else's post. Click on the graphic above for more details, and stop by Patty's blog to link up.
Being a girl in my family is...um...a bit of an anomaly. My father had one brother - no
sisters
. My mom had one brother - no
sisters
. I have two step-brothers, a brother, and a half-brother- no
sisters
. When my daughter was born, she was the first granddaughter - there were already five grandsons. Since then, three more grands have been added - only one other girl. We used to joke that the only way to get a girl in our family was to marry one. (and my step-mom isn't exactly a girlie-girl)
Me and Robin (in that order)
So, needless to say, I never had a
SISTER
. And I did NOT like it. Not one bit (in fact, when my baby brother Artie was born, I cried. Truly!). I really, REALLY wanted a
sister
. But my parents and the Lord REFUSED to oblige. How dare they?
I think that's probably why I am so close with my girlfriends. Always have been. Robin, who became my friend in third grade and who I still keep in contact with. Terri, my step-brother's girlfriend (and eventually wife), who was my "
sis
" even before she became my
sister
-in-law. My dear prayer group
sisters
(Ann, Patty, Sharon, Amy, and Gesselle), who have taken up a huge space in my heart. And several others.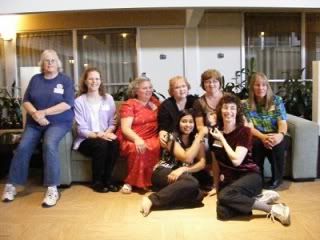 And, of course, my jewely
sisters
(who I'm thinking most of you have heard about here). Peejers. LaLee. Hally. Sawa. Vonnie. Sunny. Beffy. DeeQ. These ladies have permanent homes in my heart.
So, even though the Lord didn't give me any "blood
sisters
," He certainly blessed me, beyond belief, with my wonderful
soul sisters
.
Thanks for reading! Be sure to stop by
Ordinary Lives
for more S posts :)
Riding God's Grace Over Rough Roads