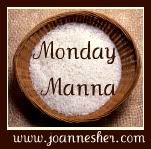 Welcome to the new, "combined" Monday Manna with Living By Grace (
click here
for this new Facebook community, launching TODAY!). The purpose of Monday Manna to get together and get to know Christ more through His Word. Each Thursday, a Bible verse to ponder will be posted, either here or at my dear friend
Vonnie's blog
, My Back Door. The following Monday, those participating will post their thoughts on the verse at their own blogs and link up at the bottom of the post in the Mr. Linky gadget. The main purpose is to chew on the same Scripture and learn from one another.
AND now, we'll also be discussing the devotional - and thoughts about it - at
Living By Grace
.
And here's the verse for today:
Not that I desire your gifts; what I desire is that more be credited to your account. Philippians 4:17
Looking forward to your thoughts, both on your blogs and at
Living By Grace
. My thoughts are below.
***
Several years ago, I went through a period of time when I needed help. A lot of it. I was six months pregnant. I had a very active toddler. And we'd just found out my husband had a brain tumor. We had no family in the immediate area - my parents were five hours away by plane, and his an hour and a half by car.
People drove Marc to appointments, stayed with him while I shopped, brought us meals, cleaned our house. They watched my son while I gave birth. They sifted the litterbox. They gave us gifts that we couldn't have made it without.
But they weren't just doing it for me. Our gratitude was not their only reward. And we certainly weren't the only Ones noticing.
God noticed when Marilyn Leali brought countless meals. He knew each time Bill Wesenick drove Marc to doctor's appointments. He paid attention when Jeanne Postma gave me a well-needed hug. Each time Barb Sluys organized all the help we got during that time, the Lord took note, and "credited their account."
And I'm so glad, because I can't possibly thank them enough. I'll use their giving hearts as an example to myself, and leave the "adequate reward" to the Lord of the universe.
**
Thanks for reading! Be sure to link up below with your own thoughts, read others' impressions in the links below, AND join us for a discussion at
Living by Grace
.
Riding God's Grace Over Rough Roads