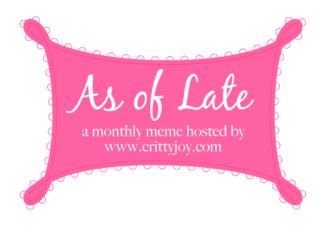 This monthly meme (:::note to self - rhymes with "cream":::) shows up on the third Thursday of the month. It's an opportunity to look back on the past month and see what you've been up to lately - and share it with blogdom. Stop by Christy's blog and check out her post, link up at the bottom, and read others' posts as well. Just plain fun!
And now it's my turn :)
Lately, I've been working to finish reading this book so I can start this one.
Lately, I've learned things about my biblical fiction main character that surprise me - and will make her story MUCH better.
Lately, I've spent some quality time with the kids individually -and it's been nice.
Lately, I've been reading The Chronicles of Narnia to my kids - and we've all loved it.
Lately, I've learned ten billion things in a Margie Lawson online class. SO worth it!
Lately, I've seen some positive results from persistence.
Lately, I've thoroughly enjoyed taking walks in my neighborhood.
Lately, my cat has developed a new nickname: Braticus the Caticus.
Lately, I've been loving our adult Sunday School class on Israel and God's relationship with its people.
Lately, I've appreciated my husband more and more.
So, tell me: what have YOU been doing as of late?
Link up at Christy's blog to participate - or just stop by to read other folks' posts.
Paving Rough Roads With God's Presence