I had a great time interviewing my friend, author and fellow Midwesterner
Lisa Lickel
, about her visit to my home state of California. It's always fun to hear about others' perceptions of where I grew up. Check out the post today at
The Barn Door
(which just happens to be her brainchild!) - and be sure to stop by there again tomorrow for HER interview of ME (and yeah, I'll remind you again tomorrow. Promise!).
And if that isn't enough excitement, I'm also guest posting at my dear friend Melissa Mashburn's blog today:
Mel's World
. (A definite must-follow blog. What a fabulous lady) She graciously invited me to be one of her "
Godly Gals
." I shared a bit of my background, and a passion I have that I don't think I've shared much, if at all, here on my blog. That will likely change, though. Would love to have you stop by there too!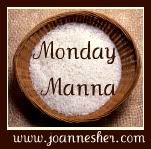 AND, if that doesn't keep you busy, some time today (may even be up already!) my dear friend Vonnie will have the next Bible verse up for next week's Monday Manna, which will be hosted at her blog
My Back Door
. Check that out too!
Paving Rough Roads With God's Presence