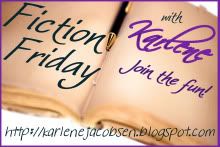 Welcome to my contribution to Fiction Friday, hosted this week by Catrina Bradley at A Work In Progress! Make sure that you link up with your own fiction at her lovely blog. Or, if you just want to read some great fiction (ALWAYS great in my opinion!), check out the links there.
I grew up in a house full of boys, with a "tomboy" mom. In other words, if I wanted to EVER watch TV, I had to pick a sport to follow. Well, that sport, for me, was baseball. I'll admit I've lost my passion for it, especially since my husband isn't really a sports fan. But I still keep my eye on MLB here and there, and if the Dodgers are playing ANYONE, I want them to win. (Kinda getting that way about the Tigers too - kinda)
I wrote this piece for the "Sports or Fitness" challenge at FaithWriters. I had more fun researching this piece than any other one I did for FW. It came together in a very special, and surprising, way. Hope you enjoy it!
FRANK'S EPISTLE TO THE LEGEND
By Joanne Sher
4341 State Street
Detroit, Michigan, 48226
Friday, October 8, 1965
Mr. Sandy Koufax
Dodger Stadium
1000 Elysian Park Avenue
Los Angeles, California, 90012
Dear Mr. Koufax,
My name is Frank, and I am 12 years old and in the eighth grade. My English teacher said I need to write a letter to someone I admire, but I probably would have written to you eventually anyway.
I've been playing baseball (little league and stuff) since I was in first grade, and I love it. You are one of my
favorite baseball players of all time. I try to pitch just like you do, and I even have your rookie card. I was listening on the radio when you pitched that perfect game against the Cubs last month. It was amazing. I would love to see you pitch in person some day, but since I live in Detroit and the Tigers don't play the Dodgers, I doubt it will happen. I sure hope so, though.
One of these days, I'm going to be a major league pitcher, just like you. I practice my pitching, fielding and batting all the time, and I'm playing every chance I get. I'm not as good as you are, but I may be some day! Do you have any advice for me? I'd love to be able to pitch a curveball like you can.
My dad told me how you were supposed to start the first game of the World Series against the Twins Wednesday, and you didn't because it was a big Jewish holiday. Drysdale really did a lousy job for you, and I hate to say you didn't do much better in game two yesterday. I hope you aren't taking offense – I know we all have bad days. I just wonder if you wish you hadn't celebrated that holiday. I think my dad told me you weren't supposed to eat at all on that holiday. Maybe that's why you weren't pitching so well for game two.
I don't think I'd ever let a holiday – even a big one – stop me from playing in the World Series. Of course, I'm not really religious. I guess I'm a Christian. I believe in God and all, and we go to church sometimes. I'm also gonna be going to Detroit Catholic Central High School next year. They have a great baseball program.
I wanted to say that it surprised me when I heard you weren't going to play because of that holiday. I'm not sure I care about anything as much as I care about baseball. I guess it's neat that being Jewish is so important to you. Believing in God sure isn't for me.
Anyhow, I guess you guys are on your way to Dodger Stadium for game three right now, as I'm writing this! I sure hope the Dodgers win the World Series. Like I said, I'm a huge fan, and the Dodgers are my favorite national league team. I'll be watching on TV, especially since game three is on Saturday and I won't have to worry about school or anything.
I hope you don't get too much grief for missing that game.
Sincerely,
Frank Tanana, age 12
**
Author's note:
The interaction between these two men is fictional, but the men, and many of the details, are real.
Sandy Koufax and the Dodgers ended up winning the 1965 World Series. Koufax won two of the three games he pitched in the seven game series and was named MVP. He is still applauded by the Jewish community to this day for not playing in that World Series game, which fell on Yom Kippur, the holiest day on the Jewish calendar.

Frank Tanana was drafted by the California Angels in 1971 and pitched in the majors for 20 years (1973-1993), mostly for the Angels and the Detroit Tigers. His "claims to fame" were striking out 17 batters in one game in 1975 and becoming a Christian halfway through his major league career and ministering to the players. He and his wife live in the Detroit area and are involved in several Christian ministries to professional athletes.
Thanks for reading! Be sure to stop by
Cat's blog
for more great fiction.
Paving Rough Roads With God's Presence