SORRY for the longer-than-expected Monday Manna break - I've definitely missed it. SO glad to be getting back on track with it THIS week!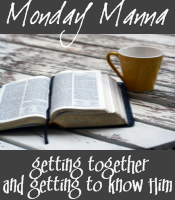 The purpose of Monday Manna is to get together and get to know Christ more through His Word.
On the first and third Mondays of each month, anyone who wants to participate can post their thoughts on a specific verse--posted here at my blog on the Thursday before, to allow you to chew on it over the weekend. It doesn't have to be long -- just a few thoughts, a picture you feel helps express it, a poem, a short story, a devotional. Just post it on your blog on Mondayish (early OR late is fine, by the way!), then come back here and link up in the Linky Tools gadget that will be at the bottom of MY post at o'dark thirty that morning.
The selection I have chosen (actually, it was my loving hubby who picked it out! Thanks, Marc!) is one that I have heard many, many times - though mostly as a child and young adult. It was recited by the officiant at the end of my wedding, and often at the end of a synagogue service. It is one of the most dearly loved passages from the Old Testament - but I've never really thought about it deeply. That is about to change. (This passage is known as the Aaronic/Priestly benediction.)
'"The LORD bless you and keep you; the LORD make his face shine upon you and be gracious to you; the LORD turn his face toward you and give you peace."' Numbers 6:24-26
Much to ponder, isn't there? Looking forward to your thoughts on the 17th! Hope you'll join me - and invite your friends to do so as well.
Paving Rough Roads With God's Presence