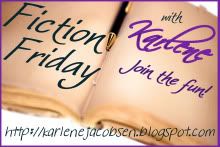 I have the distinct privilege of hosting Friday Fiction this week, for the lovely, charming, and sweet Karlene at Homespun Expressions. Whether you are a writer or not - please participate. Read all the wonderful stories writers are sharing on their blogs, by clicking on the links below this entry to lead you to these pieces. If you're a writer - join us! Post a story on your blog - or anywhere else on the internet - and link up in the Linky Tools gadget. And be sure to check out the others!
I wrote this entry earlier this month for the Faithwriters' Writing Challenge (was a rare appearance for me - lately anyway - that I'm hoping will be the start of a trend of somewhat more frequent submissions). The topic was "Manuscript." This story has LOTS of questions - some of which I don't yet have answers for. I have a feeling this is going to be a story I'll be returning to at some point (did a bit of that as I posted this - added a few new details and such). Hope you enjoy it!
INVESTIGATION
by Joanne Sher
It had been a year since this particular room had been full of children. Still, the silence felt odd and unsettling. The walls were still covered with brightly colored bulletin boards and childish works of art. Even odder, perhaps, was the yellowed sheet Melody had just picked up off the ladybug beanbag chair in the center of the room.
"I've never seen anything like this." Melody held the paper, by its crinkled edges, in front of her, putting it up to the sunlight streaming through the classroom window. "In the months since we began searching these buildings, this is definitely the most unusual find I've come across."
"What? What is it?" Jake peered over her shoulder.
She shrugged. "I'm not positive, but it looks like a page from something—much older, it seems, than this building, much less the hurricane damage that isolated it for so long."
The swirling script and elegance of the primary lettering certainly hearkened to an earlier time. Yet, the scribbles above the script and in the margins were just as certainly modern.
"But the other writing is in marker." Jake spoke what Melody had only pondered. "And markers have only been around for 50 years or so."
Melody nodded. "What would something like this be doing in an elementary school classroom? And why would someone write, in marker nonetheless, over script like this?"
Jake shrugged and reached for the paper. "Let me see."
"Just by the edges, Jake. This looks extremely fragile." She glided her hands toward him, her fingers scarcely keeping the document from falling to the floor.
He rolled his eyes and slipped the page from her fingers. "I've been at this longer than you have. I'll be careful. Trust me."
Melody scanned the rest of the room. Just like any other elementary classroom. She expected more of a mess, what with everyone having to get out so suddenly. Apparently the teacher kept an organized room.
From what she had been told, the weathermen had warned the people on the island--and in the school in particular--that the coming winds could take down the bridge. There had been mandatory evacuations. Apparently, everyone had heeded them, as not a single human body had been found (so far, anyhow) once the island was accessible again.
There had been plenty of interesting finds, but none as baffling as this single sheet of parchment.
On a hunch she lifted up the beanbag. Her eyes sparkled and widened.
"Jake: more papers." Her voice was scarcely above a whisper. "Several dozen at least."
She looked toward him to find that his eyes had not left the paper in his hand. "I know what this is."
Melody leaped toward him. "What do you mean? What is it?"
Jake shook his head. "A handwritten text from
Foxe's Book of Martyrs
."
Melody's eyes shot open. "Seriously?"
"I recognize this paragraph." He pointed to a spot near the top of the page.
She read it over Jake's shoulder. Though it had been a few years since she'd read the book, the words before her certainly seemed familiar.
"Wow. Do you think this is an original manuscript?"
"Could be." He handed the paper to Melody. "Did I hear you say you found more pages?"
Melody pointed at the pile on the floor. Jake knelt down in front of them, spread them out, and looked at the flowing letters, and marker scribbles, on each one.
She reached down and picked up several of the pages, focusing this time on the more recently penned script.
Why?
Such faith
Must be crazy
Unfair
Where did he get this hope?
These statements, and others like them, were scribbled on nearly every page.
Melody broke the silence. "Sounds like she was searching, doesn't it?"
"Sure does." Jake looked up and chuckled. "And if I'm reading this right, she may have found just what she was looking for."
Jake gave Melody the first sheet they'd found and pointed to some large lettering in the right margin.
I want what he had.
**
Thanks for stopping by! Be sure to link up with your own fiction below, and/or read the wonderful contributions from my dear writing friends. You won't be sorry!
Paving Rough Roads With God's Presence