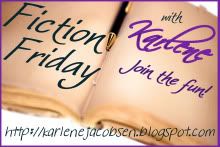 Welcome to my contribution to Fiction Friday, hosted this week by Christina Banks at "With Pen In Hand". Make sure that you head over to her blog and link up with your own fiction. Or, if you just want to read some great fiction (ALWAYS great in my opinion!), head over to Christina's blog and check out the links there.
This is a new story that I JUST finished writing last night. I got the idea for it in a VERY strange place (a garbage can in the restroom at a McDonald's), and I've been trying to get it written for several weeks now. Hope you like it. (Not thrilled with the title - but I can't think of anything else!)
Cori's Box
By Joanne Sher
Corrine gripped the shopping basket until her knuckles turned white. She looked inside. Only one item. And thought it was all she really needed, it wasn't enough.
She wandered the grocery section, her head down. The first aisle was dairy and soda. She grabbed half a gallon of milk and a 2-liter of 7-Up.She lay the bottle on top of the box she'd put in first, and then headed for the cookie aisle.
As she turned the corner, she spotted Samantha Higgins. Corrine stopped and spun around. All she needed was a chat with the junior class president. She was having enough trouble keeping it together now. Throwing Miss Prissy Gossip into the equation was certain to be a disaster.
The next aisle was chips. She peeked around the corner and, seeing no one, walked toward the middle. She quickly grabbed a bag of salt and vinegar chips and headed toward the front of the store.
She glanced into the basket again. The box was well covered. Corrine sighed and began scanning the checkout lanes. She found one with no wait at the far end of the store, but the checker looked vaguely familiar. She doubled back and found one with just one in line. She placed her basket on the conveyor belt and looked over the tabloids.
"Jenny has Thomas' love child" "Alexis tells all" "Scientists grow one-ton potato."
"Miss?" A middle-aged voice startled Corrine out of her daze. "Paper or plastic?"
She gulped. "Paper please. Thank you."
She watched the checker ring up the items. Corrine couldn't quite read the woman's thoughts when she got to the box, but she could certainly guess. She paid, grabbed the bag, and plodded toward the parking lot.
Now what?
Home certainly wasn't an option: at least not yet. And she had no desire to go back into the store. She scanned the parking lot and stores nearby. When her eyes met golden arches, she nodded and bit her lip.
"There's that entrance by the back. It's right next to the restroom. I should be able to get this done without anyone seeing me."
All at once her face reddened as she realized she'd been speaking aloud. A quick glance about assured her nobody had been close enough to hear her. She sighed and began her walk across the parking lot.
The parking spots around the building were filled, which meant the restaurant likely was as well. She entered by the back as she'd planned and speed-walked into the ladies' room. All the stalls were filled, but at least there was no one in front of her in line.
She glanced into the sink mirror and rolled her eyes. She looked ridiculous, standing in this bathroom, eyes puffy, hair disheveled, a grocery bag against her chest. She put the bag down and pulled her hoodie as low over her forehead as she could.
Just as she picked the bag up, the stall to her right opened. Corrine dropped her eyes.
"Hey, Cori!"
She knew the voice. Shawna Elliot had been a friend since before she could remember. Their mothers had gone to high school together. Shawna was a couple years behind in school, and they hadn't done much together lately besides youth group, but they were friends.
"Hi Shawna." She pointed into the stall. "I really gotta take care of that."
She nodded. "Want me to hold that bag for you while you're in there? I don't mind."
Corrine's stomach tightened and her eyes darted toward the floor again. "Um, no thanks, Shawna. I've got it."
"You sure? There isn't much room in those stalls, you know." She reached her hands out.
"No. Really. I'm fine." Corrine scooted into the stall and slammed the door shut. "Thanks anyway."
She latched the door and placed the bag on the floor and sat on the only "seat" available. She rifled through the bag and pulled out the box. Her eyes studied it as she fingered each side and corner of the small container.
She closed her eyes.
"Oh, Lord. Don't let this be what I think it is."
She took a deep breath and turned the box so the instructions were visible.
Open. Pee. Wait.
Sounds easy enough
. Dealing with what she would find out was another issue.
She didn't even know his last name. He likely didn't know her first. She had seen him for the first time minutes before it happened, at a party at her best friend Michelle's house. Her parents were in the basement.
She'd heard someone call him Jeff. He was tall, muscular. Definitely cute. They'd exchanged smiles, but nothing else...until she'd come out of the master bathroom a few minutes later to find the bedroom door closed and Jeff standing there staring at her with his shirt off.
He had grabbed her before she could reach the door. Nobody heard her scream: or at least nobody had come. And by the time he was finished with her, most everyone had left the party.
She hadn't told anyone. Not Michelle: too sweet and sensitive. Not her youth pastor. Certainly not her parents. And she wanted to keep it quiet, but she might not be able to if things went as she figured they would
She wiped the tears from her eyes and sighed. "Might as well get this over with."
She opened the box, pulled out the test inside, and opened its protective seal. After rising, pulling her pants down, and sitting once again, she put the test in the proper position and followed the package instructions. After a moment, she dried the stick with a piece of toilet paper and held it in front of her. She couldn't stop staring. It was only when a faint line began to appear in the little window that she closed her eyes.
"Now what, huh?" She could barely get the words out past the lump in her throat.
"Cori, are you okay?"
Corrine couldn't stop shaking. Shawna was still there, and had heard everything. She must have never left. Now what?
Part of her didn't want to answer. Maybe Shawna would forget what she'd heard, assume that Cori had left, and just leave herself.
Not likely.
Yet Shawna obviously cared, or she wouldn't have stuck around. And she wasn't a gossip, or one prone to dramatics. She was a friend, and a good listener. And Corrine knew she had some talking to do.
Corrine gathered herself together and opened the bathroom stall. She tossed the box in the trash and washed her hands.
"No, Shawna, I'm not, actually. Do you think we can go somewhere private and talk? I really need a friend right now."
**
Thanks for reading! Be sure to stop by
With Pen in Hand
for more great fiction!
Paving Rough Roads With God's Presence