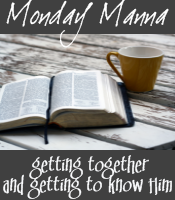 Welcome to Monday Manna. The purpose of this meme is to get together and get to know Christ more through His Word. On the
first
and
third
Monday of each month, anyone who wishes can post their thoughts on a verse I introduced at my blog the Thursday before. It doesn't have to be a long post -- just a few thoughts, a picture you feel helps express it, a poem, a short story, a devotional.
Anyone is welcome to participate. Just put a link to your Monday Manna blog entry in the MckLinky gadget below, and check out others' thoughts.
This Monday's verse is one that I'm sure most folks are familiar with, but that perhaps not as many have actually contemplated. But there is definitely much to ponder here.
So God created man in his own image, in the image of God he created him; male and female he created them. Genesis 1:27

Looking forward to reading your thoughts (link up at the bottom of this post!). Mine are below.
**
In the image of God.
Sometimes I have a hard enough time thinking of myself having ANYTHING in common with God - but being created in His image? Unfathomable.
When I look at my image--a photo of me, my reflection in the mirror, whatever--I can't help but wonder what about me is a reflection of Him. What I see is so opposed to everything He is.
Selfishness
Stubbornness
Vanity
Anger
Impatience
Pettiness
Pride
I think I'll stop here before I take up all my space. God's image, in my view, is pretty distorted in my life.

But the amazing thing is, no matter how warped and distorted that image may be, it's still there. It is implanted within us. It is the basis of our creation - in our DNA, so to speak (or perhaps even literally). We are image-bearers for God.
Every one of us is--no matter how hidden it might be beneath the sinful exterior--beneath the layers of humanity that cover up His imprint on our lives. He IS there.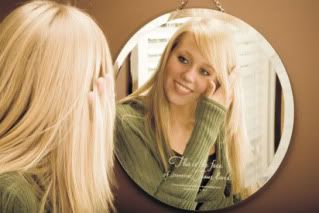 And it is only through God's Spirit indwelling the believer, His message penetrating the heart, and acceptance of His Son's sacrifice on the cross, that the image becomes clear to the world.
For it is only when we are the eyes and hands of Jesus--when we are right in the center of God's will and acting only with His power--that the distortion is decreased and we are true image bearers. Only then are we fittingly seen as a reflection of our Heavenly Father.
**
Thanks for reading. I'm looking forward to reading your thoughts - please feel free to link up below, and check out the posts there. I'm sure you'll be blessed!
Paving Rough Roads With God's Presence