First - I designed myself a new button for my blog! I'd love to have you post it on YOUR blog (planning to start up my own "button collection" for my sidebar soon.) Check below, or on my sidebar, for the code.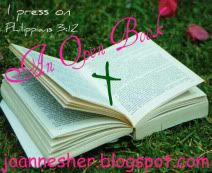 And now, back to the "topic at hand."

**
Welcome to my contribution to Word-Filled Wednesday, hosted this week by
Susan at Forever His
. Be sure to stop by her blog for more visual inspiration from scripture. (and I can't believe this is my FIRST WFW for December. Have missed it!)
Been thinking about Christmas a lot - the real reason. There is so much darkness in the world. No need to list examples: we all have plenty in our heads right now, I'm sure.
But, because of Christmas - because the light of the Lord Jesus entered the darkness of this world - we no longer have to live there.
I have come into the world as a light, so that no one who believes in me should stay in darkness. John 12:46 NIV
Thanks for stopping by. Praying your Chrismas is blessed and Christ-filled. Be sure to stop by
Susan's blog
for more