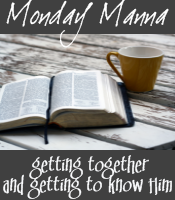 Welcome to Monday Manna. The purpose of this meme is to get together and get to know Christ more through His Word. On the
first
and
third
Monday of each month, anyone who wishes can post their thoughts on a verse I introduced at my blog the Thursday before. It doesn't have to be a long post -- just a few thoughts, a picture you feel helps express it, a poem, a short story, a devotional.
Anyone is welcome to participate. Just put a link to your Monday Manna blog entry in the MckLinky gadget below, and check out others' thoughts.
This Monday's verse is a well-known one, and, at least in my opinion, very thought-provoking.
When I consider your heavens, the work of your fingers, the moon and the stars, which you have set in place, what is man that you are mindful of him, the son of man that you care for him? Psalm 8:3-4
Looking forward to hearing your thoughts--link up below, and read others' ponderings. Mine are below.
**
I am often captivated and awed by the beauty of God's creation. There is nothing man-made that is as beautiful as what the Lord has made. No artist can create a canvas as beautiful as a sunrise or a sunset.
The lovely colors and design of a forest or jungle, a field of wildflowers, or the cloud formations against the blue sky can take my breath away. And don't even mention the beauty of a cloudless night, staring into scores of stars, planets, and other heavenly bodies.
God is an incredible artist and creator. Yet, no matter how gorgeous and awe-inspiring these aspects of nature are, to the Lord, they are second to another of his creations.
Man

Does that blow you away as much as it does me? To the Lord, we are the most lovely and beautiful of His creations. We are the only of His creations that is "fearfully and wonderfully made." (Psalm 139:14) We are his crowning achievement. It is us the Lord has put in charge of all of His creation (
Psalm 8:6-8
)--all these same amazing things we are looking at with awe.
Yes, we are all sinners. Without Christ, we can never be worthy of God's attention. Yet, His love for us is infinite, and to Him, we are His most precious creation.
**
Thanks for reading! Don't forget to link up below, and read other folks' thoughts on these verses.