Just a reminder - I've still got
my giveaway
going on. All you need to do is write a creative caption for my very scary picture. There will be two winners - pop over to
Tuesday's blog
for all the details! You guys have definitely got me laughing so far! Deadline is Friday at midnight, with a winner announced Saturday.
And now to the REAL reason for this post!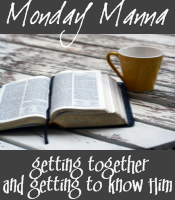 The purpose of Monday Manna is to get together and get to know Christ more through His Word.
On the first and third Mondays of each month, anyone who wants to participate can post their thoughts on a specific verse--posted here at my blog on the Thursday before, to allow you to chew on it over the weekend. It doesn't have to be long -- just a few thoughts, a picture you feel helps express it, a poem, a short story, a devotional. Just post it on your blog on Mondayish (early OR late is fine, by the way!), then come back here and link up in the MckLinky gadget that will be at the bottom of MY post at o'dark thirty that morning.
This particular word picture from scripture has captured me ever since I became a believer, likely because of my background. There is so much depth to it, and I feel the need to ponder and meditate on it even more lately. Hope you feel the same way.
The LORD your God will circumcise your hearts and the hearts of your descendants, so that you may love him with all your heart and with all your soul, and live. Deuteronomy 30:6
I truly hope you will participate. See you back here on Monday!