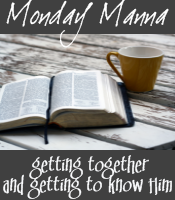 Welcome to Monday Manna. The purpose of this meme is to get together and get to know Christ more through His Word. On the
first
and
third
Monday of each month, anyone who wishes can post their thoughts on a verse I introduced at my blog the Thursday before. It doesn't have to be a long post -- just a few thoughts, a picture you feel helps express it, a poem, a short story, a devotional.
Anyone is welcome to participate. Just put a link to your Monday Manna blog entry in the MckLinky gadget below, and check out others' thoughts.
I have been very busy the past several weeks. In times like this, verses like this one are just what I need to hear and meditate on.
The LORD will fight for you; you need only to be still. Exodus 14:14
My thoughts are below. Looking forward to your contributions as well.
**
My shoulders are sagging, my arms aching, my knees buckling. So very, very tired.
The task before me is enormous. The result is far from sure. I have made but scant progress. The weight of this battle is heavy on my back; heavy on my mind; heavy on my heart.
But I must plod forward. It is the work I must do.
I lift my arm. It falls back to my side. I place my foot out. It falls to the ground once again. I crumble to the floor and weep.
I can't do it, Lord.

I know.


I wrinkle my brow.
You KNOW, Father?


Yes, My child. I know you can't do it.
I lift my eyes and arm to the heavens.
Then why have You put me in the middle of it?
Because, My child, while you cannot do it, I can. When you work on your own power, you work against me. You must stop striving and let Me do the work. The LORD will fight for you; you need only to be still.
Tears well in my eyes.
Yes, Lord. You do it. I will be still. I will rest in You and allow Your power to accomplish what I cannot.
Good, My child. For that is the only way you will win this fight.
Yes, Lord. How I wish I had known this sooner.
So do I, My child. So do I.
**
Thanks for reading! Be sure to link up below with your own thoughts, and/or read the other folks' contributions. Blessings to you!