I know lots of you are more than just bloggers. You're networking on the 'net, on different sites like Facebook and
Twitter
(and probably others). But whose name are you really trying to get out there? Check out my post at
Exemplify
today, in my
Ponderings on the Pentateuch
series. Learn a bit about how we often fall into "Tower of Babel Syndrome" in
Make WHOSE Name?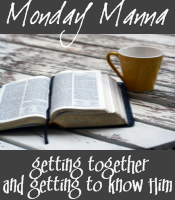 The purpose of Monday Manna is to get together and get to know Christ more through His Word.
For those of you unfamiliar, on the first and third Mondays of each month, anyone who wants to participate can post their thoughts on a specific verse. The verse is posted here at my blog on the Thursday before, to allow you to chew on it over the weekend. It doesn't have to be a long post -- just a few thoughts, a picture you feel helps express it, a poem, a short story, a devotional. Just post it on your blog on Mondayish (early OR late is fine, by the way!), then come back here and link up in the MckLinky gadget that will be at the bottom of MY post at o'dark thirty that morning.
I've been blogging (and thinking) a lot about stepping out in faith lately. This verse, in particular, has been in the forefront of my mind with many of the things I'm tackling right now. So, I figured it would be a good one for us all to ponder over the weekend.
The LORD had said to Abram, "Leave your country, your people and your father's household and go to the land I will show you. Genesis 12:1
Look forward to seeing what you come up with! See you back here on Monday!