Today is the LAST DAY to enter my blogoversary book giveaway. Go to
last Monday's post
and leave me a comment. I'll be drawing a name first thing Tuesday to win
Women of Passions: Ordinary Women Serving and Extraordinary God
.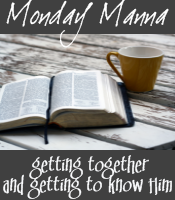 Welcome to Monday Manna. The purpose of this meme is to get together and get to know Christ more through His Word. On the
first
and
third
Monday of each month, anyone who wishes can post their thoughts on a verse I introduced at my blog the Thursday before. It doesn't have to be a long post -- just a few thoughts, a picture you feel helps express it, a poem, a short story, a devotional.
Anyone is welcome to participate. Just put a link to your Monday Manna blog entry in the MckLinky gadget below, and check out others' thoughts.
I tried to choose a freedom-related verse because of Independence Day (and I hear Canada and Venezuela celebrated the same on different days last week!). I hope it made 4th of July even more meaningful for you. I know it put ME in a bit of a different mindset.
Live as free men, but do not use your freedom as a cover-up for evil; live as servants of God. 1 Peter 2:16 NIV
Looking forward to reading your contributions. My thoughts are below.
**
It seems like a contradiction when you first look at it. The first part of this verse, and the last part.
Live as free men
Live as servants of God
Free men are indentured to no one: how can someone be free AND a servant?
What is the freedom that God gives us? What are we freed
from
?
When we accept Christ as our Savior we are saved. But from
what
?
SIN - the guilt of our sins, the power of sin over us, and, once we're away from this earth, even the presence of it.
And because of that, we are free to do what is good and right: what is pleasing to God and in His will.
But we don't have to. And often, we don't.
And even if we are free from sin, it doesn't mean we don't keep committing it. In fact, we often do exactly what the middle part of this verse says. We use [our] freedom as a cover-up for evil.
We figure we can ignore God's will and desire for us, since we're already saved and we can't lose it. We use our freedom as a reason to judge others. We even sin, while in the back of our minds we figure it's okay because we're already forgiven.
And this is NOT the life our Lord wants us to live. He sent His Son to die for us. Is this any way to show our appreciation?
When someone does something nice for you, you are often motivated to return the favor--not necessarily because you feel like you "owe them," but out of gratitude.
Is it too much to ask for us to do the same for Someone Who gave His life for us?
And the freedom to do right, and to please God, when acted upon, is doing His will and serving Him.
Not such a contradiction anymore, is it?
**
Thanks for reading! Be sure to link up below with your own thoughts, and read what others have to say. I'm sure you will be blessed.