I'm over at
Exemplify
today, with my
Ponderings on the Pentateuch
series. Check out
Keeping Kosher,
to see one one thing the Old Testament dietary laws can teach us about obedience on this side of the Cross.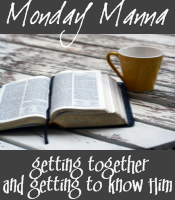 The purpose of Monday Manna is to get together and get to know Christ more through His Word.
On the first and third Mondays of each month, anyone who wants to participate can post their thoughts on a specific verse--posted here at my blog on the Thursday before, to allow you to chew on it over the weekend. It doesn't have to be long -- just a few thoughts, a picture you feel helps express it, a poem, a short story, a devotional. Just post it on your blog on Mondayish (early OR late is fine, by the way!), then come back here and link up in the MckLinky gadget that will be at the bottom of MY post at o'dark thirty that morning.
The very first Bible study I participated in as a Christian was on the book of Philippians. Since then, this epistle has become a favorite, often referred to portion of His Word. There are gems on every page. I have favorite verses in every chapter.
My favorite part of this incredible book, without a doubt, can be found in its fourth chapter. Verses four through nine are each rich in meaning, guidance, and hope.
4Rejoice in the Lord always. I will say it again: Rejoice! 5Let your gentleness be evident to all. The Lord is near. 6Do not be anxious about anything, but in everything, by prayer and petition, with thanksgiving, present your requests to God. 7And the peace of God, which transcends all understanding, will guard your hearts and your minds in Christ Jesus.
8Finally, brothers, whatever is true, whatever is noble, whatever is right, whatever is pure, whatever is lovely, whatever is admirable—if anything is excellent or praiseworthy—think about such things. 9Whatever you have learned or received or heard from me, or seen in me—put it into practice. And the God of peace will be with you. (Philippians 4:4-9)
For Monday, feel free to pick a verse or two out of this passage, or comment on the whole section if you feel so led. I look forward to a wonderful birthday present
(yes, that's a hint!)
of insight, conviction, and guidance from all of you on the third. And maybe I'll even teach myself something (through God, of course!).
See you back here on Monday!