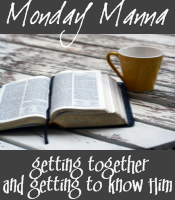 The purpose of Monday Manna is to get together and get to know Christ more through His Word.
For those of you unfamiliar, on the first and third Mondays of each month, anyone who wants to participate can post their thoughts on a specific verse. The verse is posted here at my blog on the Thursday before, to allow you to chew on it over the weekend. It doesn't have to be a long post -- just a few thoughts, a picture you feel helps express it, a poem, a short story, a devotional. Just post it on your blog on Mondayish (early OR late is fine, by the way!), then come back here and link up in the Mr. Linky gadget that will be at the bottom of MY post at o'dark thirty that morning.
I've been drawn to the book of Romans lately. There is so much there, and so much to study and chew on. Our verse for this coming Monday speaks to me from this great epistle of the faith.
You have been set free from sin and have become slaves of righteousness. Romans 6:18 NIV
(for some context, here's
the whole chapter of Romans 6
.)
Looking forward to hearing your thoughts! Hope to see you back here on Monday!