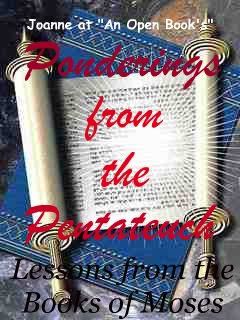 As promised, I've got another post on what I learned at the Passover meal I attended on Good Friday. Just pop over to
Exemplify
and check out the latest in my
Ponderings on the Pentateuch series
. I'm fairly certain you'll be as amazed as I am at the Christ images in even the MODERN Passover seder service. God can use anything to witness--including the traditions of people who don't accept His Son.
Oh - and for the interested, as of earlier this week,
Ailing Body Nourished Sou
l is divided into chapters (thirty-three of them, to be exact - not including the introduction and conclusion) and in order! I've just started working on solidifying the chapters a bit (each chapter needs a verse to start with, plus questions to ponder and a prayer - and a lot of my dividing gave me several I still need to work on!), and I'm sure I'll still be working on that when it's time for my monthly progress. PLUS, my online writing class "Going From Good To Sold" just started today, so I'm sure the lovely
Shirley Jump
will keep me...well...jumping ;)
Thanks for stopping by!