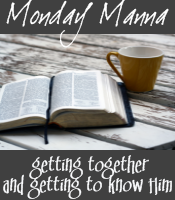 Welcome to Monday Manna. The purpose of this meme is to get together and get to know Christ more through His Word. The
first
and
third
Monday of each month, anyone who wishes can post their thoughts on a verse I introduced at my blog the Thursday before. It doesn't have to be a long post -- just a few thoughts, a picture you feel helps express it, a poem, a short story, a devotional.
Anyone is welcome to participate. Just post to your blog and link up at the bottom of this post in the Mr. Linky gadget.
This Monday's scripture is pretty jam-packed with possibilities (I think).
Be joyful in hope, patient in affliction, faithful in prayer

. Romans 12:12
Looking forward to reading what you've come up with. My thoughts are below.
**
Maybe you're different, but in my case, when the going gets tough, the first thing I want to do is ask for, or take steps toward, deliverance. I have no desire to stay in my troubles any longer than I absolutely have to. It's human nature to strive for "easy"--to avoid tough times at all costs.
BUT God does not want us to follow our "human nature." He doesn't want us to avoid our struggles, or to find ways to circumvent them. No--he wants us to be "patient in affliction." Affliction, actually, is much of what makes us grow in grace and peace, and what makes us more and more like Christ.
Consider it pure joy, my brothers, whenever you face trials of many kinds, because you know that the testing of your faith develops perseverance. Perseverance must finish its work so that you may be mature and complete, not lacking anything.

James 1:2-4 NIV
As we live through these difficulties, we become stronger in Him. But how, you may ask, do we handle this? Being patient in difficulties is by no means a natural, or even sensible, reaction to trials.
The key, it seems, is in the "bread" of this verse from Romans. By doing the "outsides," the "inside" becomes more sensible.
We must be
joyful in hope
. No matter the difficulties we are going through, we know where our hope lies: in God's sovereignty, in our hope of heaven, in knowing that God is using our circumstances to further His kingdom. And that is certainly worthy of our joy.
We must be
faithful in prayer
. As we seek Him, He will not only comfort us in our afflictions, but will draw us closer to Him, so we can possibly see a glimpse of exactly why we are in this affliction. A Godly perspective can help us endure, and even rejoice in, our difficulties.
This power-packed little verse, it appears to me, is a key to living a life for God. If we are joyful, patient, and faithful, what a testimony we can be!
**
Thanks for reading my thoughts here! Be sure to check out the other participants in the gadget below - and link up yourself if you have some thoughts on this verse.
Happy Monday Manna!