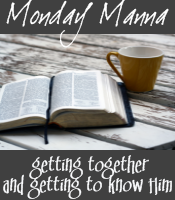 Welcome to Monday Manna. The purpose of this meme is to get together and get to know Christ more through His Word. The
first
and
third
Monday of each month, anyone who wishes can post their thoughts on a verse I introduced at my blog the Thursday before. It doesn't have to be a long post -- just a few thoughts, a picture you feel helps express it, a poem, a short story, a devotional.
Anyone is welcome to participate. Just post to your blog and link up at the bottom of this post in the Mr. Linky gadget.
This Monday's scripture, originally directed toward the Apostle Paul, is truly meant for all believers.
You will be his witness to all men of what you have seen and heard. Acts 22:15
Looking forward to what you all come up with. My thoughts are below.
**
God is at work. He causes the sun to rise and set, moves His children to prayer and service, brings about defeats of the enemy, and countless other works.
We have all seen and heard our Heavenly Father act. And, perhaps, we have all thanked Him for His amazing acts. And maybe, in doing this, we have figured that we have fulfilled our duty, so to speak.
Well, if that's what we thought, we were wrong. We must do more than see, hear, and praise. We must
share
. You must be a
witness to all men of what you have seen and heard
.
A witness is someone who sees or hears something firsthand. But what good is such a witness if he keeps that information to himself? Yes, he is still a witness. He saw God's work. But he is not told to just be a witness. He is told to be a
witness to.
There is a receiver of our witness. That is what Paul was told to be - one who passes his witness to others. We don't go through our lives seeing God's work in our lives to keep it hidden. It is not just the story of salvation we are to share with others. We must share God's workings in our lives, in large and small ways. We must share what He has told us with others--for that is why we were told. We must be a witness of what we have seen and heard. We are to share His words and actions with the world, so they can learn more and more about Him, and love Him more and more.
For how else will the world know of His power, love, and compassion if we keep His deeds to ourselves?
**
Thanks for reading my thoughts here! Be sure to check out the other participants in the gadget below - and link up yourself if you have some thoughts on this verse.