I'm over at
Exemplify
today for my
Ponderings on the Pentateuch
series. I'd love to have you stop by and read about
Consecrated Body Parts
. And check out the other bloggers while you're there, eh?
And now on to the other stuff...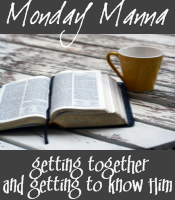 The purpose of Monday Manna is to get together and get to know Christ more through His Word.
For those of you unfamiliar, on the first and third Mondays of each month, anyone who wants to participate can post their thoughts on a specific verse. The verse is posted here at my blog on the Thursday before, to allow you to chew on it over the weekend. It doesn't have to be a long post -- just a few thoughts, a picture you feel helps express it, a poem, a short story, a devotional.
This week, I'm doing something a little different. I have actually chosen
two
verses. They are both favorites of mine, and are similar in topic, if you will. You are free to do your Monday Manna post on the first, the second, or both. I am VERY much looking forward to the insights I receive myself, and from the rest of you.
So, without further ado, here's some scripture to chew on over the weekend!
In the beginning God created the heavens and the earth. Genesis 1:1 NIV
And some more ;)
In the beginning was the Word, and the Word was with God, and the Word was God. John 1:1 NIV
Looking forward to seeing what you all come up with. Don't forget to post, then come back and link up at my blog on Monday!