First of all, don't forget to stop by
The Exemplify Blog
for the second post in my "Ponderings on the Pentateuch" series. Come learn what Joseph has to teach us about accepting forgiveness. And while you're there - read some of the other bloggers. They're ALL wonderful, and you will NOT be disappointed. I promise :D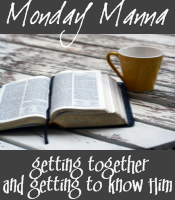 The purpose of Monday Manna, created by dear Kristen of
Exemplify Online
and
{dancing} in the margins
and passed on to me, is to get together and get to know Christ more through His Word.
For those of you unfamiliar, on the first and third Mondays of each month, anyone who wants to participate can post their thoughts on a specific verse. The verse is posted here at my blog on the Thursday before, to allow you to chew on it over the weekend. It doesn't have to be a long post -- just a few thoughts, a picture you feel helps express it, a poem, a short story, a devotional.
The verse this time is from one of my favorite chapters of the Bible, especially as I think about my ten-year salvation anniversary coming up next Tuesday (yeah - I got saved in this very chapter!). I look forward to hearing your thoughts on Monday!
But He was wounded for our transgressions, He was bruised for our guilt and iniquities; the chastisement [needful to obtain] peace and well-being for us was upon Him, and with the stripes [that wounded] Him we are healed and made whole.

Isaiah 53:5, Amplified
Had never actually read this verse in the Amplified before this moment--so much MORE to ponder! See you back here on Monday. Looking forward to your thoughts!