Ten years ago today, I truly understood for the first time that I was a sinner and that Jesus Christ had paid the price for my sin. I asked for forgiveness, and promised that I would invite him to be my Lord and Savior.
That, my friends, is the very, very condensed version of my conversion testimony. If you'd like to read a somewhat less condensed (but still not full!) version, you can read my Faithwriters challenge entry
In Old Testament Black and White
- just click on the title and you'll be there.
It's amazing to think how different I was on February 16, 1999 than that next day. I went from a heathen to a believer. From condemned to forgiven. From a child of Satan to a child of God.
And, though my life has changed, and I have grown enormously between this February 17 and the one a decade ago, none of the changes have been as dramatic as the instantaneous ones that occurred when I got saved. And that will still be the case until the day I leave this earth.
However, I still think it is important to rehearse God's work in me over the past ten years. So, here I go. This, of course, is not an exhaustive list, but just a few of the ways that God has worked in my life.
My husband, Marc, and I had been trying to have a child, off and on, for four years when we got saved. Two years and ten days after I got saved, we had our first child, the wonderful Andrew, who turns 8 on the 27th of this month.
Three months after I came to Christ, my husband became a believer.
One month after my husband and I started trying for our second child, I was pregnant with my beautiful daughter Annika, who turned 5 on Thanksgiving day.
My marriage to my husband has grown enormously and powerfully, in ways it never would have had not Christ led us in that growth.

God provided us an absolutely incredible church family (that means YOU, Ann!) that supported us as none possibly could while our family dealt with Marc's brain tumor and assorted complications.
God provided discovery of Marc's brain tumor in His perfect timing. Three months later, and Marc likely would have been unemployed and maybe even without health insurance and disability insurance. A few years earlier, and we wouldn't have been believers.
God plopped me in the middle of the incredibly supportive group of Christian writers at Faithwriters just when I needed it.
God used some of those very Faithwriters' brothers and sisters in Christ to help me discover one of my spiritual gifts (thanks, George, especially!), and provided an outlet for me to exercise my gift of encouragement.
When we found it necessary to change churches, God again led us to a wonderful place with incredibly supportive and Godly people.
God, through Faithwriters and my ministry of encouragement there, placed in my path some amazingly incredible, dear friends from across the country who love me, admonish me, pray with me, laugh (a LOT) with me and cry with me.
God led me to an online writing ministry, as well as a bit of an editing ministry that helps a bit financially.
God has been progressively making me more and more like Him. Just thinking about my views of sin, suffering, God, peace, joy, and every other aspect of life and death ten years ago, it is hard to believe I was the same person then.
Obviously, this list is anything but complete. The past ten years have been a journey: sometimes tough, sometimes easy, but always safe--as I was safe in the hands of my Father.
So, today I celebrate ten years in the arms of my Father. And of course, the years that follow promise to be even better. Thank you, dear readers, for being part of that journey of mine.
Oh - I mentioned a giveaway in my title, didn't I? Well, a much longer (but still not complete, of course) version of my conversion story was published not too long ago in a wonderful anthology called
Women of Passions: Ordinary People Serving and Extraordinary God
. Put out by Heart of God International, it is full of personal testimonies of God's work in many women's lives, including mine (and some other bloggy friends you may know: including LauraLee Shaw of
LauraLee's Lifesong
, Julie Arduini of
Surrendered Scribe
, Jan Ross of
The Plumb Line
, Mid Stutsman of
Mid's Point
, and Yvonne Blake of
My Back Door
).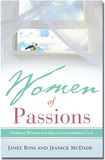 This wonderful book, which came in third place in the devotional category for the Christian Choice Book Awards, can be YOURS.... All you have to do is post a comment on this blog post. Only one entry per person, and you have until...hmmm...how about....Saturday morning at 7ET. At that time, I'll either put all the names in a hat and have one of my kids pick one out, or use the randomizer tool, and the winner will get a copy of this book (autographed by me if you want!). Just a fun way to celebrate my re-birthday!

Thanks for stopping by and reading, and for your support of my ministry of "blogginess." I look forward to many more years of sharing my God with you.