First of all, I get to announce the winner of my Holiday Expo giveaway, associated with
the Internet Cafe
. I had THIRTY-THREE people post their favorite prayers and/or promises from the Bible, and they all truly blessed me. Check them out
here
if you want to see for yourself.
I gave each person who commented a number (that way folks who did two posts didn't get an extra chance), then used
The Random Number Picker
to choose one person to win the book "Prayers and Promises for Women."
And the winner (who will also be announced at The Internet Cafe') is:
Michelle Bentham
!! Congratulations! Your book will be on its way within a couple days.
Secondly,
my OTHER contest/giveaway
! We're halfway through the contest, and I am eagerly awaiting some ideas for those last ten days of the year. I know this may sound a bit involved, but it doesn't have to be real detailed. Recommend a few books of the Bible to read over that time, some word studies, or whatever! Click on the button below for more information. Remember, you only have until next Wednesday, December 17 to get me your plan.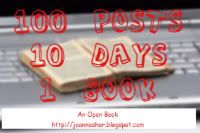 Thanks for participating and reading, folks! You are so appreciated :)