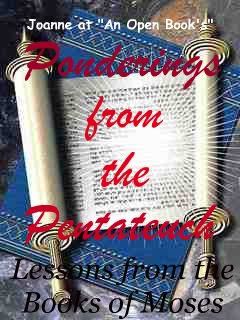 You may (or may not!) know this, but today is the first day of Passover. It doesn't always fall during Easter week, but when it does, it makes Easter a bit more meaningful to me, and, of course vice versa. There are likely more parallels between the two holidays than you may realize.
Be sure to stop my my Ponderings on the Pentateuch post at the (newly redesigned!) Exemplify this morning. Find out how this holiday "double up" is Deliverance Two Ways.
Speaking of the overlapping of these two holidays, on Good Friday,
my church
is hosting a first century Passover dinner, put on by the
Biblical Learning Center of Grand Rapids
. My husband and I are very anxious to go. As we were raised in the Jewish faith, we are quite familiar with the rituals and such of a Passover Seder, but to see it from Christ's perspective I am sure will be amazing. We have been to one "Messianic" Seder in the past, but having this one set in Jesus' time will, I'm sure, add to the authenticity and poignancy of the evening.
Look forward to sharing about my experiences in a few days, both here and at
Exemplify
!